Quality work is not expensive; Cheap work costs more.
Many clients who are working with us, have been hurt badly in the past searching for " cheap or affordable SEO " services. We have worked with clients that have wasted many years and tens of thousands jumping from one SEO agency to another. The sad part is, all these mistakes lead to poor results while wasting time and money.
Cheap SEO is like flying to India for a €250 dental implant. Of course, you'll save money in theory, but you can almost always guarantee that you'll return from your trip with a jaw that looks like hulk's. Then you'll have to deal with additional expenses to fix the old cheap work, and to pay another party to fix it.
Our advice is not to search for cheap SEO agencies, search for a business growth driven agency which can understand your business, your numbers and can bring you real, profitable and measurable results.
Our Simplified Pricing Model
Our SEO campaigns start at a minimum of 15 Hours per month. Otherwise, your SEO campaign would take years. The minimum of 15 hours per month per campaign gives enough time to get a reasonable amount of work done (the bare minimum).
The more time you put in, the faster you will see results
Most of our clients put in more hours per month to accelerate the process once they see the results and the amount of work that is done.
Discounts
Our hourly rate for monthly payments is €100. However, since the majority of the SEO campaigns take time, we've been asked to offer long-term advance payments discounts. For your business benefit, we can offer you the following:
Six months paid in advance: €90 Per Hour.

One year paid in advance: €80 Per Hour.
Payment terms
All payments are made in advance.

All payments should be made on time.

We don't offer refunds.
If you are currently working with an SEO agency and you have no idea what you are paying for or what's going on,
then your business is probably being ripped.
Before You Contact Us, Are We a Good Fit to Work Together?
One of our main goals is to provide high-quality services that bring the best results for our clients. To achieve this goal, we can only work with clients who are a good fit for our business model. In other words, we are a quality instead of quantity business.
We Only Work With Motivated Business Owners Who:
Understand that online marketing is hard work, and it takes time, effort and persistence.

Understand that to achieve great results, we should work together, for us to help your business, we need to understand everything about your business, your industry and your numbers, although we do our research, no one would know your business better than you.

Understand that SEO takes time. If you want instant results, then SEO is not the right marketing channel for your business. Maybe try Facebook Ads or Google Ads.

Understand that SEO is an investment that will pay for itself several times folds for years to come if you are patient and have long-term plans.
We Won't Be Able to Work With Your Business If:
You will cancel if you don't see results in three months. Most SEO campaigns take 150+ Hours on average, that's around five to ten months if you are on the 15 hours per month plan. If we are only doing 15 hours per month, that's not three months of work; it is 45 hours of work. We want to set realistic expectations, unlike other agencies who claim to guarantee insane results that turn your business around in a couple of weeks!
Keywords rankings are your only success measure. Ranking is essential for any business website, but it is not the single success measurement that we should focus on. Ranking alone doesn't have value if you are not getting calls, sales, or leads. We should focus on more valuable goals like getting customers, getting new leads, make more sales, increase revenue and make money.
How Profigain Measures SEO Success?
Revenue and ROI
Boosting your ROI is always one of our main goals. This is the most critical metric for measuring the success of your campaign. With our SEO optimization services, we can help enhance your ROI to its needed goals, so your business grows to the next level.
We provide you detailed monthly reports that show important metrics of your company including ROI,
from the information in the reports, we can observe how your SEO campaign performed and decide what the best practices to further increase the performance in the coming month are. This way we can ensure that we have up-to-date metrics and benchmarks to work on, optimize our marketing channels and implement whatever marketing techniques to bring the highest possible ROI for your business.
Goal Tracking
Goal tracking is essential for any business that needs to track traffic increase, leads acquisition, and revenue growth of their website.
Objective and goal tracking are vital elements of any successful marketing campaign. This enables us to review how suitable the marketing medium is for your business to optimize and implement further techniques for your campaigns.
eCommerce Tracking
eCommerce results' tracking similar goal tracking, but the tracked metrics are slightly different. E-commerce tracking provides an extensive overview of data during an SEO campaign.
This data would allow businesses to scale and to increase revenue. By categorizing the data into channels using filters like organic search, email, social media, we can analyze and track the origin of the traffic that brings the most results; this will help you determine which traffic channel is the most effective for your business.
Scalable Campaigns
Here at Profigain, all marketing campaigns are organized and built for consistency and scalability. We'll demonstrate our model, and you'll see your ROI's excel beyond the expectations.
Your Team At Profigain
We offer a devoted in-house SEO expert team committed and dedicated to your success. Profigain will integrate as a member of your company, to help produce outstanding results, and to incorporate your objectives into your marketing campaigns. Our SEO specialists are here to help you avoid the challenges they've seen others face, by providing expert consultation to lift you up and over any hurdles, you may encounter. We're not just here for you; we're here with you!
Education and Transparency
Being transparent with our customers is a critical element of our success, Profigain SEO strategies are built on educating each customer to have a better understanding of the SEO process and campaigns. We provide you with extensive information on why each step and action is vital in the campaign, how it will affect the overall SEO strategy, and what kind of results can we expect from this action. If you need an explanation about the metric or have a question about any terminology, our expert's will be happy to answer your questions and explain it to you in details.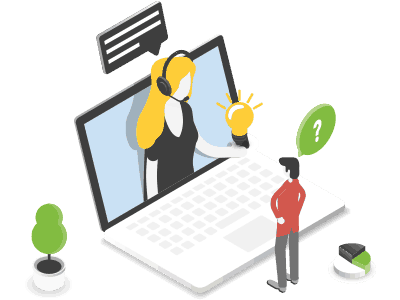 Lightning Fast Start
You don't have time to waste while waiting to see a positive ROI. We will have your campaign up and ready to launch soonest possible, to guarantee faster results than our competitors!