Pay Per Click (PPC) Management
Pay Per Click (PPC) campaigns can be confusing and stressful. If you don't have enough experience and your PPC campaigns are not set up correctly, you'll soon discover that losing money and seeing any leads or results. Profigain can help you manage your PPC campaigns most efficiently, our team can provide you with cost-effective solutions for your business.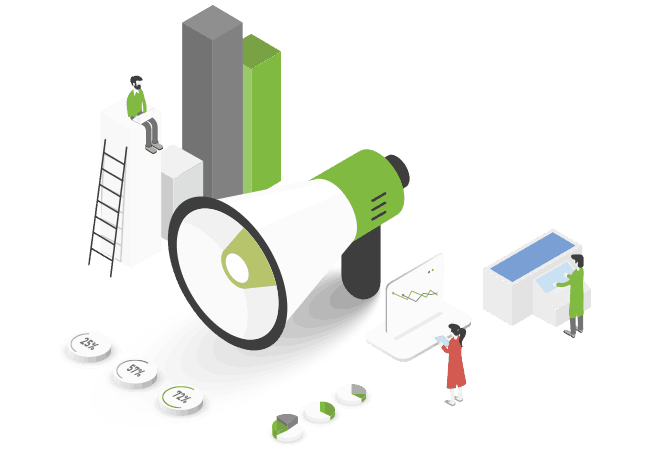 Pay Per Click advertising aka (PPC), search engine marketing (SEM) or paid search, is a form of online advertisement where you can place your ads on search engines' results pages. This is a very effective advertising method because you can target the keywords that your customer is searching for, once your potential customer clicks on your ad, PPC provider will charge you for that click. The Cost per click varies from one provider to another, and it depends mostly on a bidding system where you and other competitors bids on specific keywords, the highest bidder get the first sparks on the ad space.
There are several places where you can create PPC campaigns, Bing Ads and Facebook ads also have PPC programs, however; because Google is the dominant search engine, the biggest PPC provider is Google Ads.
Google's Ads show advertisements in several places around the organic search results; the campaigns can be very effective if created accurately. Over the organic results links, these ads usually are the primary choice that searchers will click on.
Instant Visibility
PPC bring quick results; it gets your website link on the first page on Google as soon as your Ad is published.
Full Control
With Google Ads, and other PPC platforms, you can target your ideal customer by choosing the demographics, location, cost per click you are willing to pay and many other metrics that would give you the flexibility to create a profitable company for your business.
Measurable Results
Pay Per Click is a very information-driven advertising strategy. This allows you to track important KPIs, cost per acquisition, ROI and other trackable metrics. This data is hard if not impossible to track using old advertising methods like print ads radio TV promotions.
If you have not yet used PPC for your business, and you see that your competitors are using it to advertise their products or services, then you probably are missing on tremendous business growth opportunity. Contact us today to discuss how your competitors are profiting from PPC and what we can do about it.
Frequently Asked Questions About Pay Per Click (PPC) Advertising
One of the great benefits of advertising using the PPC is the number of trackable metrics and data that we can analyze for further actions, therefore; ROI is the most accurate metric to measure the success of your pay per click campaigns. To calculate the ROI of your company, we gather data such as the number of views, the number of clicks, cost per click, and approximate traffic share your ad receives and finally and most importantly how many leads or sales your campaign has generated.
PPC campaign statistics will show you how effective your ads are, so you can optimize the campaign along the way until you reach optimal results.
Campaign optimizations depend on your most important KPIs and the type of business you are in and the structure of your website. If your site generates leads, you can optimize your PPC campaign to reach a specific cost per lead as a target, of your website is an e-commerce store you can track how much sales have been generated during the campaign.
There are several ways to track conversions results of your company, including but not limited to, how many calls, how many downloads, how many leads have opted in, and more. When tracking conversions on your website, it is vital to set goals that are achievable, realistic and profitable.
While pay per click ads can be very profitable for your business, it should be only one channel of your overall marketing strategy or other marketing channels should include SEO, content marketing and social media marketing.
Google Ads have done a great job over the years to simplify the process of creating a campaign by yourself, however; if you don't know what you're doing, it will cost you much money until you learn how to do it the right way consider as any other skill, it has a learning curve which would cost you time, continues efforts and money.
Google ads platform and other similar PPC platforms are changing regularly, whether in their terms, dashboards improvements or adding new tools, so you must keep an eye on those changes because sometimes if you miss on a critical update, your business will be spending money while your competitors are profiting from your mistakes.
Also remember, that costs per click are continually changing due to several factors including seasonal trends, new competitors on the market, the general demands of your products or services, so whenever there is a change in the air should modify your campaigns to reflect and adapt to those changes to keep your ads showing on right spots without overspending on clicks.
Google Ads is a powerful platform that would boost your business growth; the problem is that to achieve optimal local results, you must perform many tests, it also depends on your expertise in online advertising and your marketing knowledge.

Another important thing to remember the test and optimize your assets and your keywords list so you won't be attracting junk traffic, and other work you don't want to pay for non-potential customers or visitors without buying intent.
Foremost, if you are thinking of running a PPC campaign yourself, but you don't have a Google ads account yet, please create one. If you are not sure if PPC campaigns will be profitable for your business or you wanted Profigain to manage campaigns, you can contact us for a free consultation to discuss it further.
Managing Pay Per Click Yourself
while this might seem a more economical option for you, pay per click is a huge monster to ride, it is easy to make mistakes and to throw your money on the floor without getting tangible results. We have seen many businesses that try to manage their PPC accounts and failed and even depleted their whole animal marketing budget within weeks, and because of their mistakes (because of the lack of their knowledge) there are now convinced that pay per click is not a good option for their business, and it won't work for them. If your business is in this situation or you just started your PPC journey, we highly encourage you to contact us today to have an expert opinion for free.
Hiring a Pay Per Click Management Agency
This is the best way to ensure that your advertising budget is spent profitably and that your campaigns will bring you the needed results, whether it is more sales, more leads or more calls generated from your website. Working with a professional PPC management agency will help your business reach its goals. An experienced online marketing agency will first research your market and your competitors; this is something that only PPC management agencies have the knowledge to do so you can be sure that your money is spent in the right direction.
If you have questions or inquiries, our experts are here to help you grow your business, contact us today for a free and non-obligatory consultation and will help you ensure that your PPC campaigns are profitable.
How Profigain Measures SEO Success?
Revenue and ROI
Boosting your ROI is always one of our main goals. This is the most critical metric for measuring the success of your campaign. With our SEO optimization services, we can help enhance your ROI to its needed goals, so your business grows to the next level.
We provide you detailed monthly reports that show important metrics of your company including ROI,
from the information in the reports, we can observe how your SEO campaign performed and decide what the best practices to further increase the performance in the coming month are. This way we can ensure that we have up-to-date metrics and benchmarks to work on, optimize our marketing channels and implement whatever marketing techniques to bring the highest possible ROI for your business.
Goal Tracking
Goal tracking is essential for any business that needs to track traffic increase, leads acquisition, and revenue growth of their website.
Objective and goal tracking are vital elements of any successful marketing campaign. This enables us to review how suitable the marketing medium is for your business to optimize and implement further techniques for your campaigns.
eCommerce Tracking
eCommerce results' tracking similar goal tracking, but the tracked metrics are slightly different. E-commerce tracking provides an extensive overview of data during an SEO campaign.
This data would allow businesses to scale and to increase revenue. By categorizing the data into channels using filters like organic search, email, social media, we can analyze and track the origin of the traffic that brings the most results; this will help you determine which traffic channel is the most effective for your business.
Scalable Campaigns
Here at Profigain, all marketing campaigns are organized and built for consistency and scalability. We'll demonstrate our model, and you'll see your ROI's excel beyond the expectations.
Your Team At Profigain
We offer a devoted in-house SEO expert team committed and dedicated to your success. Profigain will integrate as a member of your company, to help produce outstanding results, and to incorporate your objectives into your marketing campaigns. Our SEO specialists are here to help you avoid the challenges they've seen others face, by providing expert consultation to lift you up and over any hurdles, you may encounter. We're not just here for you; we're here with you!
Team of Experts
Our staff is exceptionally qualified team players! We invest heavily in contracting and holding top SEO experts by offering a positively satisfying work environment. Each expert from Profigain is experienced and proficient in SEO and marketing campaigns and strategies. With our professional team of talented SEO specialists, we win when you win!
Real-Time Analytics
Profigain has developed advanced analytics and monitoring tools; we will provide you with all the tools and reports to track your campaign progress, you can sign in whenever or where-ever to see real-time keywords rankings, preview traffic developments, and ROI.