Online Reputation Management
Online Reputation Management (ORM) is now critical more than before and maintaining businesses' reputation. Monitoring what other people are saying about your company is a vital element in your marketing and business growth strategy.
What They Are Saying About Your Business?
Profigain developed the technologies to monitor and grow your online business reputation and help you increase the trust in your brand and your business credibility. Our experts will create a customized strategy to improve your online business reputation, monitor mentions and conversations across different platforms related to your business or brand name.
The Internet is a primary source of information when people are searching about companies, brands, products, and services, or reviews. You might have received spam, false news or negative reviews attack from your rivals without you knowing about it. The business could be suffering in silence. Usually, businesses discover such huge problems after unfortunately, it is too late, or it is too expensive to recover again. Therefore; it is urgent to manage and control your online reputation no matter where your business is, we encourage you to utilize our full reputation management service. With advanced monitoring and management technologies that Profigain has developed, we'll be here for you if your online reputation drops or your business is in a reputation crisis, we will react immediately and will work diligently with you, side by side, to help you and your business recover.
The Accurate Way to Represent Your Brand or Business
Your website and social media accounts are the main online representatives of your business; it makes a great first impression on your potential customers. Positioning your brand has a positive, trustworthy, known brand, will increase your online sales drastically. This can be achieved in several ways including but not limited to, getting social media followers, attracting positive reviews, good press and media coverage, brand awareness and educational materials.
Our strategy in building an excellent business reputation for our customers involves building up a solid online presence, trustworthy assets, and reliable media references.
We use the best search engine optimization practices that include content development plans and social media marketing plans. We will help you have a broader perspective and take control of your brand's online reputation using proven methods and positive signals.
Our experts will help you maintain any reputation crisis or online damage that is hurting your business.
Social Media Reputation Management
If you are a business that provides services or sell products on your website, there is a high chance that some of your customers are mentioning your business name on various social media platforms. Whether it is Facebook, Twitter, LinkedIn, Pinterest or other social platforms, your business needs a strong online presence on social media to develop an understanding of your fans, followers, and competitors.
Profigain will work with you to manage your reputation on various social media platforms and provide you with real-time feedback. We will set your business up with cutting edge techniques and tools to improve your online image and reputation. Shoppers love to engage with a positive brand; they like to communicate with businesses, experience an incredible client service, and participate in discussions.
Search Engine Optimization (SEO) is a Major Success Factor in Every Reputation Management Strategy
Let's assume you have created your positive message and post it, wishing the world will see it. The truth is, without SEO, your reputation management efforts will fail because nobody can see them.
Once you created your positive business message and created the assets to deliver that message, we will optimize them, so they rank higher in the search results.
Then all you have to do is to kick back while your message reaches the masses and your business reputation skyrocket to the roof.
When the targeted audience associates the positive business message of your brand, you will notice an increasing change in the behavior towards your business. This is the primary goal of search engine reputation management service.
Contact us today and let us help you create and optimize your brand's message with our SEO and Reputation Management services.
How Profigain Measures SEO Success?
Revenue and ROI
Boosting your ROI is always one of our main goals. This is the most critical metric for measuring the success of your campaign. With our SEO optimization services, we can help enhance your ROI to its needed goals, so your business grows to the next level.
We provide you detailed monthly reports that show important metrics of your company including ROI,
from the information in the reports, we can observe how your SEO campaign performed and decide what the best practices to further increase the performance in the coming month are. This way we can ensure that we have up-to-date metrics and benchmarks to work on, optimize our marketing channels and implement whatever marketing techniques to bring the highest possible ROI for your business.
Goal Tracking
Goal tracking is essential for any business that needs to track traffic increase, leads acquisition, and revenue growth of their website.
Objective and goal tracking are vital elements of any successful marketing campaign. This enables us to review how suitable the marketing medium is for your business to optimize and implement further techniques for your campaigns.
eCommerce Tracking
eCommerce results' tracking similar goal tracking, but the tracked metrics are slightly different. E-commerce tracking provides an extensive overview of data during an SEO campaign.
This data would allow businesses to scale and to increase revenue. By categorizing the data into channels using filters like organic search, email, social media, we can analyze and track the origin of the traffic that brings the most results; this will help you determine which traffic channel is the most effective for your business.
Real-Time Analytics
Profigain has developed advanced analytics and monitoring tools; we will provide you with all the tools and reports to track your campaign progress, you can sign in whenever or where-ever to see real-time keywords rankings, preview traffic developments, and ROI.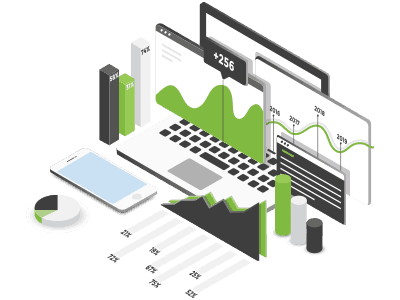 ROI Focused
Gain positive ROI with Profigain' data-driven SEO strategy. Whether you are a startup business or a Fortune 500 company, in business, every single dollar matter. Profigain' main success metric is positive ROI. If your campaign doesn't earn you money, then we are unsuccessful. Eliminate the guesswork of whether your SEO campaign is generating a positive return is not; your team will love the positive results.
Your Team At Profigain
We offer a devoted in-house SEO expert team committed and dedicated to your success. Profigain will integrate as a member of your company, to help produce outstanding results, and to incorporate your objectives into your marketing campaigns. Our SEO specialists are here to help you avoid the challenges they've seen others face, by providing expert consultation to lift you up and over any hurdles, you may encounter. We're not just here for you; we're here with you!
Scalable Campaigns
Here at Profigain, all marketing campaigns are organized and built for consistency and scalability. We'll demonstrate our model, and you'll see your ROI's excel beyond the expectations.